TMS applications in patients with stroke (postponed)
Non-invasive brain stimulation with Transcranial Magnetic Stimulation (TMS) is an increasingly popular tool for the prognosis and treatment for stroke patients suffering from upper limb impairment. The repetitive form of TMS can be used as a treatment option in the subacute phase. In this way, TMS can be used to restore disrupted activity in the patient's motor network, which facilitates the recovery of motor function. Additionally, the diagnostic form of TMS can be used to identify the region in the brain which is responsible for motor activity. This allows identification of intact motor cortex and corticospinal projections. Furthermore, TMS can detect changes in the spatial representation of the motor cortex. These changes might indicate reorganization of the motor cortex, which is an important aspect of the recovery process. The current webinar presents the latest insights into the applications of TMS in the field of stroke rehabilitation. Experts in the field will guide you through latest developments and share their insights. There will be ample room to ask questions. In between both lectures, we will demonstrate our latest rTMS and MRI guided neuronavigation equipment, and teach you how to use the equipment successfully.
The webinar will take place using the Zoom platform, with a maximum of 100 participants that have registered upfront. You can register here using our online form from the Zoom platform. A few days before the webinar, you will receive the Zoom link to participate by email. Participation is free for everyone.
The times of the scheduled topics outlined below are according to Amsterdam time, which is Central European Summer Time (CEST) at the moment of writing.
Programme:
| | | |
| --- | --- | --- |
| 14.00-14.45h CEST | Jord Vink, UMCU/Brain Science Tools BV | rTMS treatment of subacute stroke and monitoring brain plasticity over time: update on the BSTARS trial |
| 14.45-15.15h CEST | Sjors Heuberger, Brain Science Tools BV | Live demonstrations of rTMS protocols for stroke treatment and neuronavigated TMS motor mapping |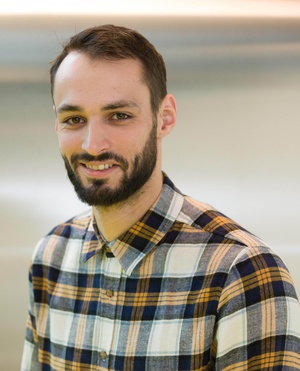 Jord Vink
PhD, UMCU
Jord is specialized in Technical Medicine. He has always been fascinated by the human brain and medical technology, which is why he decided to continue in brain stimulation research. This allows him to practice medicine from a technological perspective, opening new doors in medical innovation. Jords research interests include brain connectivity and TMS in combination with EEG, ECoG and MRI at the UMC Utrecht and Massachusetts General Hospital. Currently Jord is part of the team that runs the BSTARS trial at UMC Utrecht and De Hoogstraat rehabilitation clinic.